Dear Friends, Family and Fans,
The Cottonwood Clarion has a whole new look and the person responsible for helping me get the new look is Bonnie Bowman, our Media Coordinator. She is not only talented but always positive and upbeat for whatever challenge is presented her. So our hat is off to Bonnie Bowman! We hope you will let us know what you think of the new newsletter format.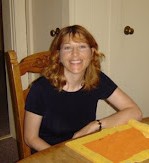 We have decided to offer Stan Lynde's Cowboy Lore and Legend as a permanent feature in our newsletter versus saving it for the Thursday Blog insertion. The difference is that the blog allows you to make online comments (which we love to see), but you get to enjoy the feature when you open the Cottonwood Clarion on Sunday.

We've added two weekly reviews for our reader's. One is for exceptional western web sites or blogs and the other for reviews of Stan's novels. We hope you find them helpful.

Western Author
Chit Chat

What makes a good western novel or movie?

Last Monday was the first Meet the Author at his web chat room.

We plan to share some snippets from the chat room each week in the newsletter, as it is a great way to share knowledge and bounce western trivia to Stan, who has an incredible amount of information in his mind from a lifetime of living it.

Sample from the Chat Room:

Stanlyndeauthor: 'Just for the record, I'll offer up my own favorite western movies and books--SHANE, RED RIVER, AND LONESOME DOVE for Movies, TRAILS PLOWED UNDER, ELMORE LEONARD'S SHORT STORIES AND LONESOME DOVE for books.'
Bunnabo:'I think I told you, Lynda that my husband Shane was named after that movie.'
Stanlyndeauthor: 'Kind of a classic, and worth renting. Filmed in the Jackson Hole country, the screen play was written from Jack Shaefer's book by Montana author A.B. Guthrie, Jr.'

We hope you will set aside time for this wonderful opportunity every first Monday of the month at 7 p.m. with a new topic. Mark your calendars for next chat 05-07-12. http://stanlynde.net/chat-room_290.html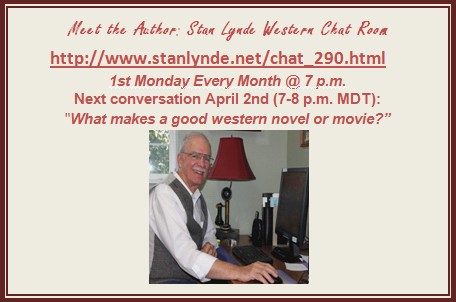 Western
Web Site Recommendations
Buddies in the Saddle, Ron Scheer blog
'Buddies in the Saddle' is an old cowboy song about life on the open range. This blog is about how everyday life on the open plains and frontier small towns has been represented in books, films, song, pulp magazines, comics, radio, and TV.
Current review: To the End of the Trail (1902) by Frank Lewis Nason
Go to http://www.buddiesinthesaddle.blogspot.com/
In this issue:

• Hot News
• Nuggets from the Merlin Fanshaw Westerns
• Western Author Chit Chat
• Merlin Fanshaw Weekly Puzzle
• Grass Roots
• Latigo
• Rövar Bob
• Stan Lynde's Cowboy Lore & Legend
• Western Web Site Recommendations
• Fans Speak
Nuggets from the Merlin Fanshaw Westerns


From Marshal of Medicine Lodge:
"Ridgeway's pipe had gone cold again. This time he tapped the ashes out in the palm of his hand, dumped them into the wastebasket, and put the briar in his pocket. When next he spoke, his voice had a determined ring to it."
"Now it is my hope that City Marshal Brown will put an end to Archie Young Bull's mischief and restore peace and order to Medicine Lodge. The last thing this territory needs is Indian trouble, or a bunch of nervous settlers demanding protection by the Army. As United States Marshal for the territory, I figure to send Jeff a little help."
Ridgeway fell silent again. I could hear the ticking of the Regulator clock on the wall behind me. The steady buzz of a housefly seemed loud in the stillness. Ridgeway swung his chair about and looked at me.
"I figure to send him you," he said."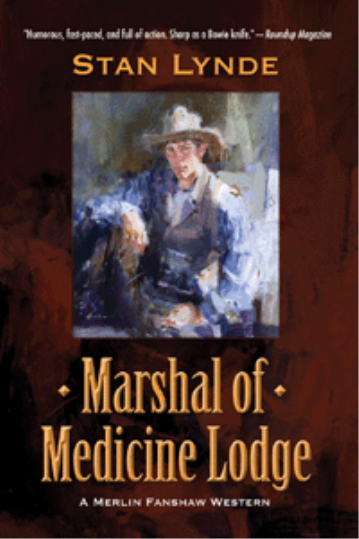 If you would like to order your own copy of this book, just click on the book link. It is available both in E-Book for $2.99 and Trade Paperback for $9.99.
In Dry Creek, Merlin plays cards with town marshal Glenn Murdoch, and usually loses. What game do they play?
a. Poker
b. Gin Rummy
c. Cribbage
d. Three-card Monte
e. Casino

To answer, you must go to Stan's blog http://www.stanlyndeauthor.com/page_id=2118. Click on 04-15-12. Check out the cool Bronc Rider artist's print you can win by being the first with the correct answer. Congratulations to last week's winner Sarah LeRoy of Bangor, Maine with the correct answer, 'Crow' Indian tribe.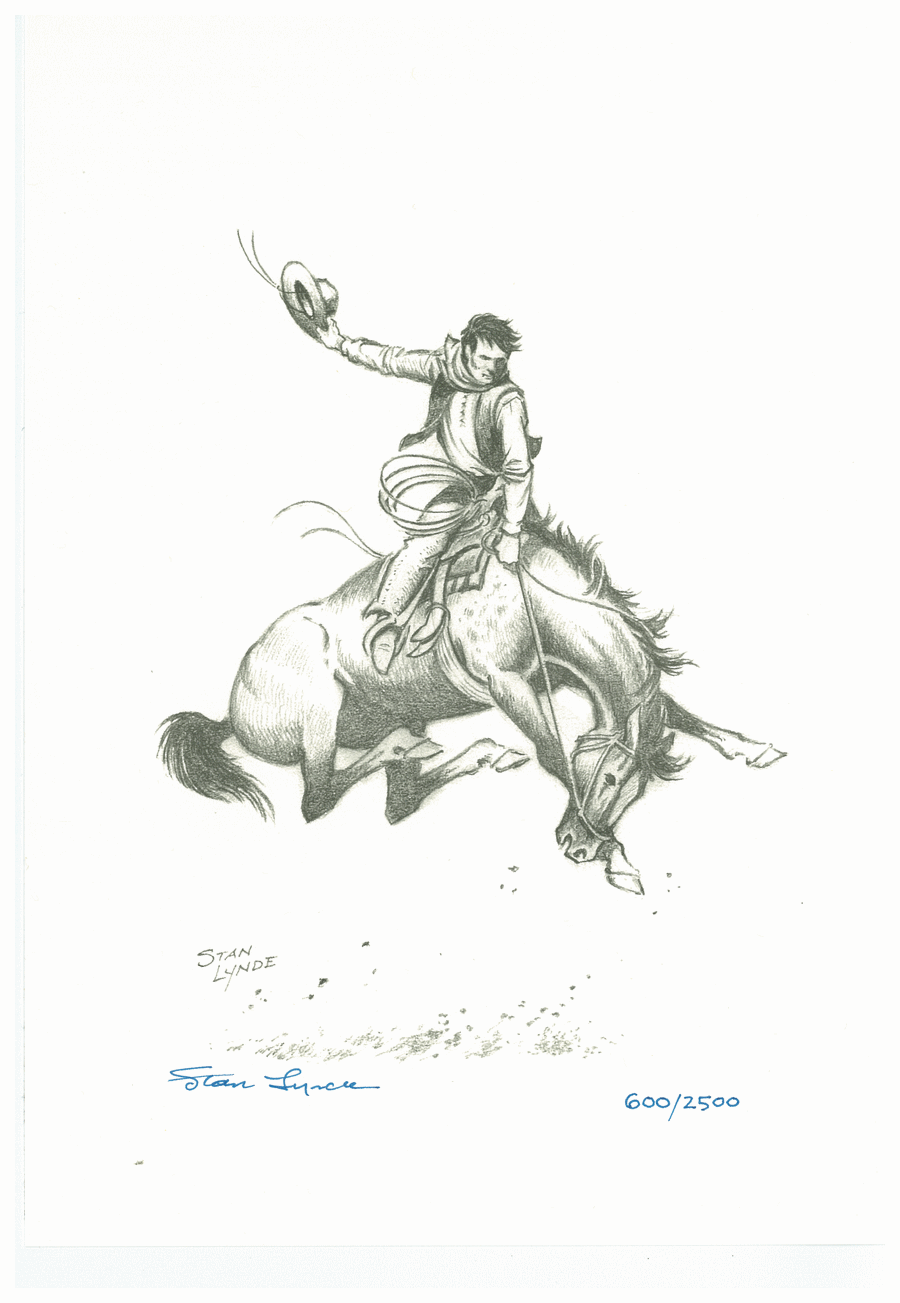 'Road Agent.'

04-08-12

at

http://www.stanlyndeauthor.com/?page_id=2105

.

The big stagecoach heist!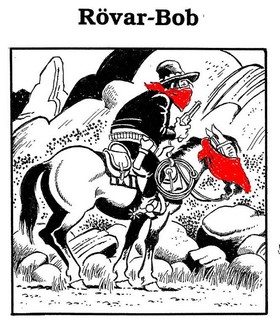 Road Agent


Next Week's Cowboy Lore & Legend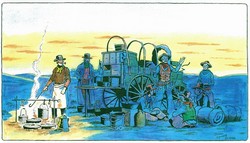 The Chuck Wagon, Part Two

The old-time cowboy's home on the range was the chuck wagon, or mess wagon. The wagon carried trail equipment and supplies as well as food, and it was a rolling kitchen and commissary. On the trail, it usually moved out ahead of the herd, and the dust. Pulled by four horses or mules, the cook drove the wagon to a camp site selected by the trail boss, where he set up camp and prepared a hot meal for the trail hands.
Fans Speak
Book review from Peggy Speaks of Clinton, OK: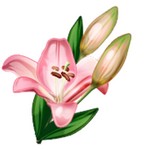 'I have read all of Stan Lynde's western novels except for Summer Snow, Vendetta Canyon and Vigilante Moon, which I will order as soon as they are listed.

I recommend them to anyone who enjoys western books. His stories are a great joy for a history buff, and his knowledge of the state of Montana is undeniable.

A little bit of humor too, which you rarely find in books of this nature. To purchase this book, I can personally promise you that your money is well spent.'
This wonderful review was posted on Rovar Bob's comment page 03-04-12 at Stan's blog, and while it wasn't at Amazon.com book reviews, the sentiments are heartfelt and wonderful to hear. On top of it all, Peggy Speaks is my aunt and my deceased mother's youngest sister and she loves western books! She also uses a Kindle to read her books these days. She's becoming quite the Techi for her age. Way to go Aunt Peggy, and incidentally, Summer Snow is available on Kindle and in Trade Paperback. Vendetta Canyon is currently in the publishing 'hopper' and we will announce its availability as soon as we get through all of the details we go through to get a book into the public domain.

That wraps it up for this week's Cottonwood Clarion news. We hope you have a wonderful Easter Sunday and a super week ahead.