The following are some comments
from a few of Stan's biggest fans:

Just wanted to take a moment out to tell you. . . THANKS
Thanks for all the wonderful joyful times, I had as a child,
reading your strip.
Thank you, for all the wonderful life's lessons that Rick
& Hip taught me.
Thank you for helping a young boy grow into an upright
& good man.
Thank you, for making me a better "Daddy" to my children.
And thank you for taking the time to send me those signed strips, all those many years ago.
THANK YOU,
Deputy City Attorney,

Bradford Harrison

---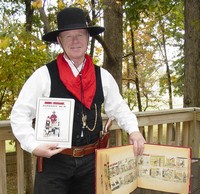 Really enjoying your site. Here is a picture I put together several years ago for a type of combined photo spread that was sent to you.
Thought I would forward a cropped picture of the original. Have been saving your Sunday strips since back in the early 1970's.
Thanks so much for all these years....

David Wims
---


AWESOME!!!!! I LOVE it!!!!! I've got all my facebook friends reading.... Good stuff! Thank you so much for the "reunion"!!! I'm a native Montana girl...born in Helena... I grew up reading Stan in the Montana Standard. I couldn't wait for the paper to arrive every day so I could draw the latest edition. I've missed that so much! It's like a childhood link now! Thank you!

Squeak Barsalou
---

(heard about Mr. Lynde from...)Local library literary event. Your book, Summer Snow, was compared favorably to the work of Louis L'Amour. The discussion was uniquely American stories, tales of urban struggles (The Black Board Jungle and Mario Puzo's The Fortunate Pilgrim), and tales of privilege (Gatsby). The speaker and discussion leader, reserved special praise for L'Amour and Lynde (while suggesting that Zane Gray would be best used for leveling uneven table legs than reading), because of their (your) distinctly American prose style. The speaker said we should read your comic strip. He also said you are a very funny guy. I'll get to it. (More Comments:) I read Careless Creek (in the large print version... age ain't all it's cracked up to be). Loved it. Loaned it to a neighbor. I think it's overdue...

Matthew

---

Stan's writing is amazing and it took me back to my days at my Fathers knee listening to his days doing pretty much the same as Stan. I could go on and on with that. I just never realized that there was anybody left in this world who could bring back history and make me remember what my Dad had told me. My hat is off to Stan and also tell him that I do enjoy his books too. So far I have read The Bodacious Kid, To kill a Copper King, Careless Creek and now I have Marshall of Medicine Lodge.

Aunt Peggy

---

Rick O'Shay is a legendary comic, and extremely well written. He continue to develop that skill to this day in a way no one else can. This guy is the western personified.

amikael

---

I am really excited for the books coming out on Kindle! I just got one for Christmas and I can't wait to add your books to my collection!! We've been getting your books for my sister and I love getting to read them all before I give them to her!! ) Everyone in my family have all been huge fans of yours for as long as I can remember; some of my first comics were Rick O Shay and Latigo. We love the humor, pride, and ideals in each of your stories. You have made us laugh and cry and have fanned the flames of patriotism and faith in our family. We are grateful to you for writing stories we can agree with and be proud of, and will continue passing our love of the true West on down to future generations!

Danielle

---

Lynda, We've known Stan a long time, and I just can't tell you how
happy it made me to find him on facebook and on the web!
And, Thank you for the autographed copy of the Rick O'Shay cartoon.
I must tell you, I have to guard it... Laughing here.
John W. came out and tried to talk me out of it; he's not on line
but does live in Grass Range.
Our daughter, Paula, (she went to school with Stan's son) tried her
best to talk me out of it.
Our son, Dan, insists he'll build a frame for it...but only if it canhang on his wall, in his house.
Think I'll just go buy a frame... (~:

Many hugs your way

Jan R.
---

Once again thank you for the signed first strip. It is really a treasure for one who grew up with Rick and the folks of Conniption. I introduced my daughter to Rick and all after discovering your site and Stan,s new book writing career. We have both enjoyed reading of Merlins adventures. Will sure be happy to hear when the next story is ready to read. Thanks again for many years of being able to go back in time to a slower and it seems more gentle time. God Bless you and keep you all.

Keith, Rebecca Wagner
---


I think the video is very well done. I think Stan has the best voice for the audio books. So glad he reads them himself.

Cynthia Ayers


---
Lynda, Great video! Continued success to you and Stan.

Cameron Knox from the Red Lodge Hauser Ave Hooligans.

---

Any idea when the next Merlin Fanshaw book will be out. I've read the entire series and have absolutely loved them. I passed them along to my preacher who is a cowboy and enjoyed them too. I like them because there is very little rough language. Some of the westerns I have read have so much foul language, I feel guilty reading them. Thank you so much.

Lynn
---

just watch[ed] it. very well done. if I didn't already read them i would, based on the video. like it a lot.

Jim
---
Very nice to hear from Stan. A nice video.

Keith
---

Great production! And great voice! What are the chances of you reading your stories to us?

Ann
---

RE: Happy birthday, boss ~ I grew up reading your comic strips and still have the books from them. This strip is one of my favorite. The way you put common sense, basic values and the simple pleasures of life in them were greatly enjoyed. It might be hard to imagine, but as a young boy growing up in Montana, reading Rick O'Shay had a positive impact upon my life. Thank you for the memories, I just wish Rick O'Shay was still under your pen.

Rod
---

40 years ago, I was an officer at Western Bank in Billings, Montana. My uncle was in the calendar business, and one day he told me he'd just signed a contract to print the "Rick O'Shay" calendar, and thought it would be a great hand-out for our Billings customers, as the artist lived in our area. So, I placed an order and we started to hand out our new 1974 calendar, which was very well received.
Then, one day, you came into our bank and talked to me, asking how it was we were using your artwork. Fortunately, my uncle answered his phone on the first ring, talked to you, and gave you the right name of your agent. Before you left, I had you autograph a calendar for me.
I'm now retired, and as my wife and I prepare to become full-time motorhomers, we've been going through things to sell, give away, or toss, and today I found that calendar in a box of old bank papers.
Mr. Lynde, I now have the only motorhome in America with a 1974 "Rick O'Shay" calendar hanging on the wall. Best wishes to you, and I hope to travel back to Montana this next summer.

Ron Howes